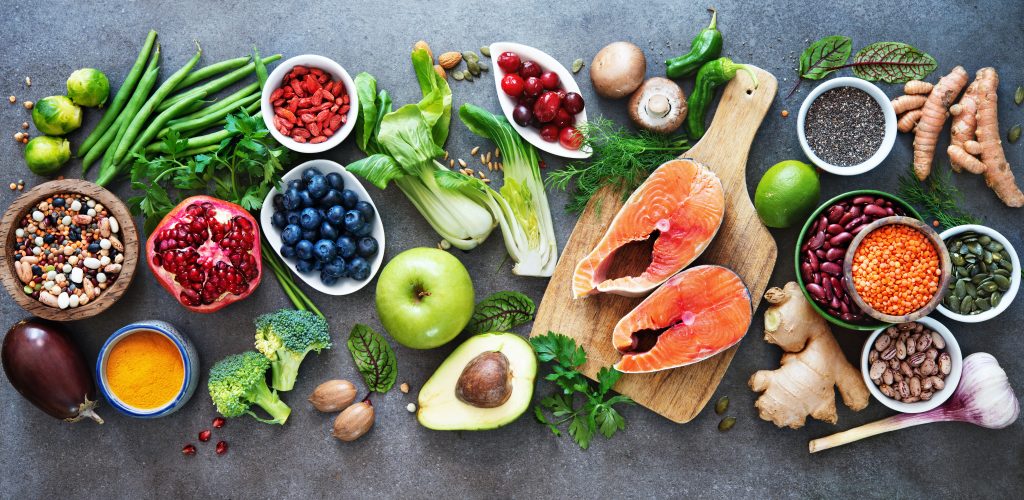 The best way is to learn a little as you go along and try different things out to see what suits you.
There is no need to eat all nutrients on the same plate of food (although it is ideal) unless your body is particularly asking for you to replenish all it's stores at one time. This may be after a particularly intense session at the gym or a hike in the mountains.
Below are lists of foods that fall under each Macro and Micronutrient heading for you to become familiar with.
Water:
Cucumber, 96% water

Tomatoes, 95% water
Spinach, 93% water
Broccoli, 90% water
Brussel sprouts, 88% water
Oranges, 86% water
Apples, 85% water
Carbohydrates:
Oats

Sweet potato
Potato
Bananas
Quinoa
Beetroot
Yogurt
Corn
Prunes
Pulses
Pumpkin
Buckwheat
Blueberries
Apples
Mangoes
Brown rice (white if limited)
Super seeded bread, brown (white if limited)
Dates
Goji Berries
Kidney beans
Lentils
Raisins
Carrots
Cassave (Yuca)
Fat – Unsaturated fats/healthy fats
Avocados/ Avocado oil
Olive oil/ olives
Peanut butter/ peanut oil
Eggs
Fatty fish like Salmon and mackerel
Almonds
Cashews
Peanuts
Sesame seeds
Pumpkin seeds
Sunflower seeds
Dark Chocolate
Vegetable oils
Any other Nuts
Fat – Saturated fat/not so healthy but still needed in small amounts
Cheese

Beef
Pork
Deserts
Palm oil
Whole milk
Butter
Cakes
Biscuits
Cured meats
Pastries
Coconut milk
Protein
Beans (Black, lima and many others)
Fish
Poultry
Beef
Eggs
Chickpeas
Lentils
Pumpkin seeds
Peas
Other Seeds
Almonds
Oats
Cottage cheese
Greek Yogurt
Milk
Brocoli
Quinoa
Lentils
Pumpkin seeds
Shrimp
Brussel Sprouts
Most other nuts
Tempeh
Cauliflower
Legumes
Hemp seeds
Whey Protein Supplements
Nut butters
Fibre Foods
Wholegrain breakfast cereals
Wholewheat pasta
Wholegrain bread
Oats
Barley
Rye
Dark Chocolate (70% cocoa or above)
Fruit such as berries, pears, melon and oranges.
Vegetables such as broccoli, carrots and sweetcorn.
Peas
Beans
Pulses
Nuts and seeds.
Potatoes with skin
Avocado
Banana
Carrots
Beets
Artichoke
Lentils
Vitamins and Minerals
Fat-soluble vitamins
Fat-soluble vitamins (vitamin A, D, E and K) are mainly found in:
animal fats
vegetable oils

dairy foods

liver
oily fish
While your body needs these vitamins to work properly, you don't need to eat foods containing them every day.
Water-soluble vitamins
Water-soluble vitamins (vitamin C, the B vitamins and folic acid) are mainly found in:
fruit and vegetables

grains
milk and dairy foods
These vitamins aren't stored in the body, so you need to have them more frequently.
If you have more than you need, your body gets rid of the extra vitamins when you urinate.
Minerals
Minerals include calcium and iron amongst many others and are found in:
meat
cereals
fish
milk and dairy foods
fruit and vegetables
nuts
Minerals are necessary for 3 main reasons:
building strong bones and teeth
controlling body fluids inside and outside cells
turning the food you eat into energy
At this stage you can take some of these away and start using them and come back at another time to grab more.
If you would like to join a program and get nutritional coaching then please get in contact.
Thanks
Danny